Importing x86 VMs using the VM Imports page
This guide describes how to import x86 The most common type of CPU for Windows and Linux VMs in Skytap Cloud. VMs with the import tool built into your Skytap Cloud account at https://cloud.skytap.com/imports. Each import job supports up to 50 VMs and their associated networks.
If Power A particular type of CPU that supports AIX and Linux in Skytap Cloud. VMs are enabled for your account, see Importing Power VMs for instructions about importing Power VMs.
Contents
Process overview
To import VMs into Skytap Cloud
Prepare and validate the VMs to make sure they meet the minimum import requirements.
Use the VM Imports tab in Skytap Cloud to create an import job.
Upload the VMs to the Skytap Cloud FTP server.
Start the import process. Skytap Cloud processes the VMs and creates virtual environments in your Skytap Cloud account.
Your customer account can have a maximum, combined total of five import and export jobs running simultaneously.
Step 1: Prepare the VMs for import
The most common cause of import errors is an improperly formatted file. Before you begin, read Preparing VMs for import to learn the requirements to successfully import VMs into Skytap Cloud.
Step 2: Create Import job
Create an import job for each VM file (OVA, VMX, OVF) that you want to upload.
To create an import job
From the Navigation bar in Skytap Cloud, click Environments.

Click the VM Imports tab.

The VM Imports tab notifies you if you do not have permission to import VMs. If needed, work with your account administrator to gain access.

Click (Create VM Import Job).

Provide details about the import, including:

The Environment Name (maximum 255 characters).
If your account is enabled for Power VMs, you must choose whether this Import includes Power VMs.
The Region where the environment will be added.
Optional: An MD5 Hash Value. For more information, see Creating MD5 hash values for VM imports.

Click Save Import Job.
Step 3: Upload VM file(s) to the Skytap Cloud FTP server
Upload the prepared VM files to the Skytap Cloud FTP server using an SFTP client (such as WinSCP). Skytap Cloud provides you with the hostname, and temporary FTP account credentials for a depot on the Skytap FTP server.
Upload import files to the upload directory.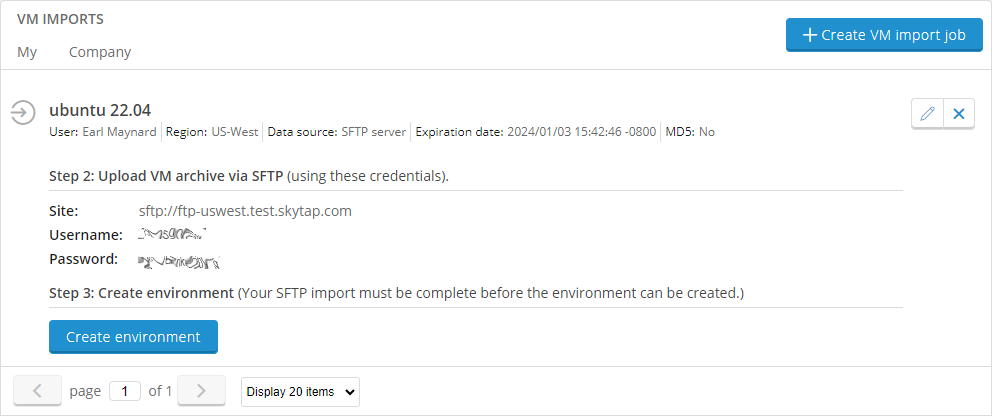 Important:

If you have a choice for transfer method, choose binary transfer.
Don't put compressed files in nested directories inside the /upload directory.
The temporary FTP account expires after 10 days.
Though Skytap Cloud can accept transfers over FTP, SFTP is more secure and provides better protection against file corruption.
Step 4: Start the import process
When the FTP upload is complete, click Create environment on the Skytap Cloud Import page. Skytap Cloud imports the VM file and create your new environment.
Skytap Cloud notifies you via email when the import completes. If the import is successful, Skytap Cloud provides a link to the new environment; if the import fails, Skytap Cloud provides an error message (see Resolving import errors).
Additional information about the import process

Skytap Cloud creates a new environment from your VMs in three stages:
Analyzing – Skytap Cloud checks the SFTP upload folder for VM files, confirms the file type, and compares MD5 hash values (if applicable).
Importing – Skytap Cloud imports the VMs.
Finalizing – Skytap Cloud creates the virtual environment and any associated virtual networking. Whenever possible, Skytap Cloud retains the original networking information for VMs. If the original networking can't be found or retained, Skytap Cloud creates one or more automatic networks for the new environment.
Optional steps once the import is complete
Notes

Imports can take between 30 minutes to several hours to complete.
If you are importing VMs on hardware version 6, 7, 8, or 9 into the EMEA, US-Central, US-East-2, CAN-Toronto, or AUS-Sydney region, Skytap Cloud automatically upgrades the VM to hardware version 11 during the import process. For more information about hardware versions, see Checking VM hardware version.