CI/CD reference architecture: Jenkins build farm environment
The following reference architecture shows a Jenkins distributed build farm environment. As code is checked in, a Jenkins master delegates build and test tasks to one of several subordinate VMs running in Skytap.
This build process can be included in a larger CI/CD pipeline.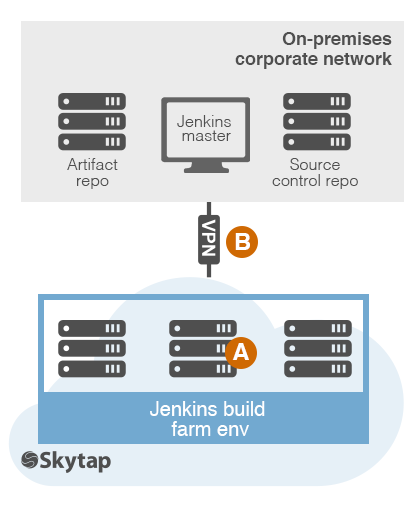 In a more complex scenario, you could have multiple Jenkins masters and multiple build farm environments. Each dev team could own a Jenkins master and a build farm environment.
Skytap features used

Templates
A fully-configured, subordinate Jenkins VM is saved as a template. When an additional build VM is needed, you can add it to the environment from the template. Skytap provides automatic networking for the new VM.

VPN or ICNR networking
The Jenkins master connects to the Skytap build farm environment via a Skytap VPN or Private Network Connection.
Alternately, the Jenkins master can be hosted in a Skytap environment that communicates with the build farm environment via ICNR.