Sharing VMs and environments with sharing portals
Sharing portals are a convenient way to share an environment—even with someone who doesn't have an account in Skytap.
Sharing portal access may be disabled by your administrator.
What is a sharing portal?
A sharing portal provides URL-based access to one or more VMs in an environment. This is useful for collaborating with external users or sharing access to a VM or environment during a classroom training session, sales demo, or support case.
Sharing portals are customizable, which gives you control over what you share and how you share it. For each sharing portal, you control:
Whether the sharing portal requires a password to access.
The environment name displayed to users.
Which VMs are shared.
The permissions for each shared VM (for example, you can specify whether a VM can be started or stopped from the sharing portal access link).
How long the sharing portal can be used.
Other content presented with the sharing portal (for example, instructions for students).
…and more.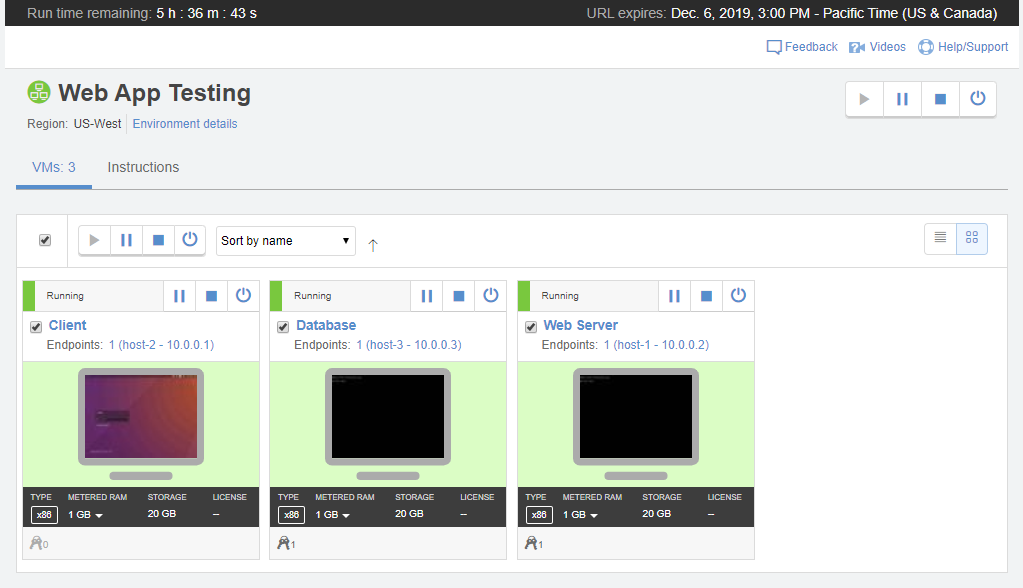 Watch Sharing VM Access with Sharing Portals
Getting started
Learn more
Saving an environment (with sharing portals) as a template
When you save an environment as a template, you can optionally save the sharing portals in the template, too. For more information, see Saving an environment as a template.
SSO authentication for sharing portals
If your account is enabled for SSO, you can restrict sharing portal access to SSO users. For more information, see Overview of sharing portal options.
Direct RDP access via sharing portals (for VMs with published services on port 3389)
If a VM with a published service on port 3389 is included in a sharing portal, sharing portal users can download an RDP file and access the VM through direct RDP. To disable direct RDP access, either remove the published service from the VM or make a copy of the environment without a published service and that is intended for sharing portal access.
For more information, see Accessing VMs with published services.